National Commander 2014-2015
Michael D. Helm
Department Commander 2014-2015
Frank J. Peters
** Make Sure You Check The Calendar Of Upcoming Events **
*** If you have events to put on the website
please let me know. Finn Donaldson
c (585-424-0063) h(585-247-1467)
This is January Events:
1) Sea Food Dinners every Friday at
Ely-Fagan Post #1151.
5:PM till 7:PM
Phone #585-334-8228
2) Breakfast every Tuesday 8-10AM
Rayson - Miller Post #0899
Pittsford Village Hall - downstairs
No charge - Donation accepted
3) Breakfast at Ely-Fagan Post 1151.
Jan. 4th. 9:AM till 12:PM.
Phone #585-334-8228
4) Breakfast at Spencerport American
Legion Jan. 11th 8:AM-11:AM.
Phone # 585-352-6691
5) Euchre and Pasta Dinner
Fundraiser. Jan 17th Chili Post.
Euchre $5.00,1- 4 pm, Pasta dinner
$8.00 adults, $5.00 5-12, under 5
free,4:pm. 585-889-1830
6) Scottsville Post #0367 Spaghetti
Dinner 4-7PM. 61 Main St.,
Scottsville, NY 14546
585-889-9156
7) Fish Fry Jan. 30th. Cottreall-
Warner Post 942,
5:pm. $12.00.
585-671-9312
8) Spencer Post #0330 Cash Bash
3-5PM. 691 Trimmer Rd.,
Spencerport, NY 14559
585-352-6691
*** All Legionaires please go on to

www.mylegion.org

and set up your profile. This will help your Post in the future to set up an email list to send out inportant messages and other inportant things for you Post. You can renew you membership online. This is a great tool for the Legion. If yo have any questions you can call me Finn (247-1467) or email

finnandina@frontiernet.net

****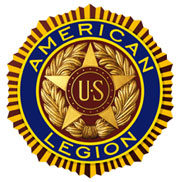 Welcome to our web site!



On this home page we'll introduce our organization and highlight important areas on our site. We'd like to inform you of our purpose, meetings, directions, delegate attendance, and reports on working committees.



Once a month , mostly on the first Monday, delegates from the 39 posts in Monroe Co. meet to conduct the business of the American Legion. We try to encourage action in its many activities for the benefit of the community.